Mr. Acapella Pack (Celebrating 6000 Likes On Facebook)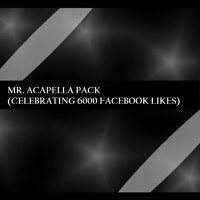 As Promised On Out Facebook Page, We Would Release An Acapella Pack When We Reached 6000 Likes! So Here it Is! Thanks To All Who Have Liked The Page!
Size Of Pack - 107.09MB
No.# Of Files - 12
Download Link (You Must Like Our Facebook Page To Download It)
-
[You must be registered and logged in to see this link.]
THE FILE IS A RAR FILE, TO OPEN IT YOU NEED TO EXTRACT THE FILE, YOUR COMPUTER SHOULD ALREADY HAVE PRE-INSTALLED SOFTWARE FOR THIS BUT IF IT DOESN'T DOWNLOAD 7-ZIP OR WINRAR WHICH ARE FREE PROGRAMS FOR ALL PLATFORMS.
Files In The Pack
1. Amba Sheperd - Soldier (Studio Acapella)
2. Black Eyed Peas - My Humps (Studio Acapella)
3. Chris Brown - Dont Judge Me (Studio Acapella)
4. Christine Aguilera - Your Body (Studio Acapella)
5. David Bowie - Lets Dance (Studio Acapella)
6. David Guetta - The World Is Mine (Studio Acapella)
7. Enrique Iglesias - Tonight (I'm Fuckin You) (HQ DIY Acapella)
8. Justin Timberlake - Sexyback (HQ Acapella)
9. Lady Gaga - Alejandro (Studio Acapella)
10. Pink - I Dont Believe You (DJND3 HQ Acapella)
11. The Ian Carey Project - Get Shaky (Studiio Acapella)
12. Vendetta (Original Mix) [Mr. Acapella Collab] <- Bonus Track Made By Admins Of Mr. Acapella.
Hope You Guys Enjoy This Pack And Put All The Acapellas Into Good Use! Once Again Thanks For 6000 Facebook Likes!