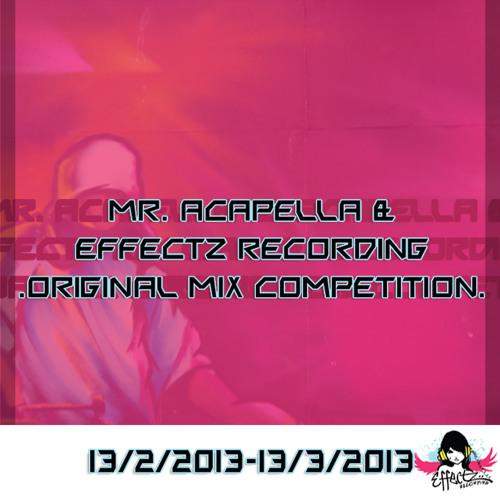 [You must be registered and logged in to see this link.]
We are really happy to be working with Effectz recording for the competition! we would like to thanks them for preparing the voice over and working with us to bring you guys with wonderful competition! Please do not enter the competition without reading all the rules, it would be a shame to have a track/s not judged for not following the rules!
Dates For Submissions
13/2/2013 To 13/3/2013
Where To Submit?
On The Soundcloud Group (soundcloud.com/groups/mr-acapella-effectz-recordings-original-mix-competition)
Rules & Details
- Must be an original mix, must be your own work (no plagiarism) (any genres of edm allowed)
- Must be something new, you cannot submit a track that you have already made prior to the comp
- If you want to add vocals, it cannot be an Acapella from another artist, it has to be your own vocals (or vocals from your vocalist/singer)
- Must be submitted to our Soundcloud group or else it will not be accepted
- Only submit 1 track, if you submit more than 1 your tracks unfortunenently will not be judged
- Tracks Submitted must be high quality preferably 320kb and mastered if possible.
- Tracks Submitted must have downloads turned off!
- Don't Upload Previews To The Group! Only Full Tracks With Intro & Outro
Judging & Prizes
-After The Submission Dates Are Over The 2 Admins/Owners Of Mr. Acapella Will Pick The Top 10!
-After this Effectz Record Will Pick 2 Winners And 1 Runner-Up
-The Winners And Runner Up Will Receive:
1. Signing + Effectz Recording Jacket + Effectz Compilation.
2. Signing + Effectz Recording Shirt + Effectz Compilation.
3. Effectz Compilation. (Runner Up Prize)
Mr. Acapella will also continually support the winners and promote there tracks when they reach beatport!
What About The Tracks That Don't Win?
Even If your entered tracks don't win you can release them for free to your fans! At the end of the day it's not a waste!
Good Luck To All & May The Best, Most Creative Producer Win!